By Michel Pierre-Louis
Matt Reis came up huge for the New England Revolution tonight as they defeated the Sporting Kansas City 2-1 at Gillette Stadium in the first leg of the Eastern Conference semifinals.
Sporting KC dominated the Revs throughout the first half, winning about every battle in the midfield but they were unable to get the ball past New England Goal-keeper Matt Reis.
Kansas City's best chance to score in the first half came in the 34th minute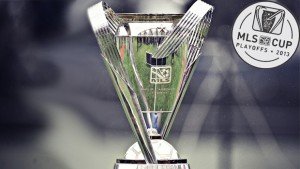 for Matt Reis making a wonderful save as  Kansas City Forward  Teal Bunbury was one-on-one with the veteran goalkeeper.
After playing alargely uneventful first half, both teams went into the break scoreless.
Andy Dorman scored the first goal of the match in the 55th minute after receiving a nice ball from Lee Nguyen in front of the goal line. With Jimmy Nielsen already out of the picture, Dorman tapped the ball for his first MLS goal since July 14, 2007 when he scored against the New York Red Bulls.
Kelyn Rowe doubled New England's lead in the 67′ after beautifully slotting the ball past the goalkeeper from a Nguyen assist.  New England was in control off the game from that point going forward.  However a moment of inattention only 4′ later would result in KC goal from Collin.
New England held onto the lead, withstanding numerous Kansas City attacks.  They now head into the 2nd leg with a 2-1 advantage on aggregate.
The second leg of the Eastern Conference Semi-final is scheduled for Nov. 6, in Sporting KC Park.