As she embarks on her latest adventure with Western New York Flash of the National Women's Soccer League, Shanna Hudson speaks to haititempo.com about the challenges she faced with her new club, her goals, and also giving her views on the upcoming women's World Cup.
HT: Shanna, how's everything with your new club?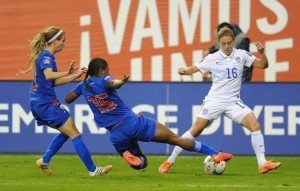 SH: So far, I am loving it. It's certainly challenging but it's so good for me. It really forces you to look deep inside yourself every day.
HT: Can you tell us about the challenges you are speaking of?
SH: It's the top league in the world; everyone is fit fast strong and athletic so there's that component. Everyone is vying for a spot so how do you bring yourself to mentally compete every training session? Plus, we are in double days. No other club is doing what we're doing. And how do you continue to mentally grind and bounce back after each session with such quick turn around? All you can do is be the best version of you every day. Nobody else can be you or do what you do; no one possess the traits you have.
HT: What are your goals with this new club?
SH: Realistically for me as a rookie in the league this year is about getting my foot in the door. This is the perfect year with so many others national team players in and out due to the world cup. Then from there gain minutes and experience over the course of the season bit by bit. Then next year look to come in and gain a starting spot. So this year is about acclimation and getting my foot in the door.
HT: Speaking of the Women's World Cup, will you be watching the tournament this summer?
SH: Yes, if it doesn't hurt too badly. Let's be honest, it's hard to watch something that huge that you could have been a part of.
HT: Who is your favorite to win the upcoming World Cup in Canada?
SH: USA, after having played against them directly. (Laugh)
HT: Lastly, with all the new talents do you think Haiti can make it to the next World Cup in 2019 in France?
SH: Yes it's very possible. It just seems there's a different energy with this new group. It's refreshing and exciting.
(Interview conducted by Benson Petit-Clair for haititempo.com)