Photo: James Louis-Charles for Haiti-Tempo
By Benson Petit-Clair
To conclude the commemoration of 100 years of the federation's existence, the U.S. Soccer Federation announced on Friday its All-Time Men's National Team Best XI. The All-Time Women's team was released a day earlier.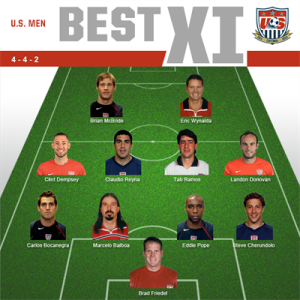 To determine the All-Time Best XI, the federation formed a committee which includes former players, the sport's historians, coaches and administrators from the national level and a selected group of media members.  The members of the committee determined the list of eligible players for selection to the Best XI, and also the criteria to be considered by the voters.
Landon Donovan, who is the U.S. all time leading scorer with 56 goals, topped the voting with 52 votes. The 31 year old Galaxy Forward and Seattle Sounders Forward Clint Dempsey are the only active players represented on the All-time team.
Kasey Keller, Alexi Lalas, Cobi Jones, Michael Bradley and Jozy Altidore are among the most notable absences from the list.
The USMNT All-Time Best XI:
Goalkeeper – Brad Friedel 1992-2004 (25 votes)
Defender – Marcelo Balboa 1988-2000 (35 votes)
Defender – Carlos Bocanegra 2001-2012 (25 votes)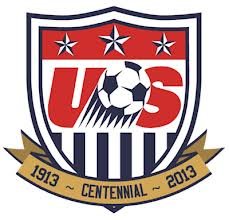 Defender – Steve Cherundolo 1999-2012 (25 votes)
Defender – Eddie Pope 1996-2006 (33 votes)
Midfielder – Clint Dempsey 2004-present (25 votes)
Midfielder – Landon Donovan 2000-present (52 votes)
Midfielder – Tab Ramos 1988-2000 (42 votes)
Midfielder – Claudio Reyna 1994-2006 (45 votes)
Forward – Brian McBride 1993-2006 (45 votes)
Forward – Eric Wynalda 1990-2000 (43 votes)
U.S. Soccer Women's All-Time Best XI
Goalkeeper – Briana Scurry 1994-2008 (31 votes)
Defender – Brandi Chastain 1988-2004 (31)
Defender – Joy Biefeld (Fawcett) 1987-2004 (56)
Defender – Carla Werden (Overbeck) 1988-2000 (49)
Defender – Christie Rampone (Pearce) 1997-present (46)
Midfielder – Michelle Akers 1985-2000 (55)
Midfielder – Julie Foudy 1988-2004 (40)
Midfielder – Kristine Lilly 1987-2010 (55)
Forward – Mia Hamm 1987-2004 (56)
Forward – Alex Morgan 2010-present (15)
Forward – Abby Wambach 2001-present (52)